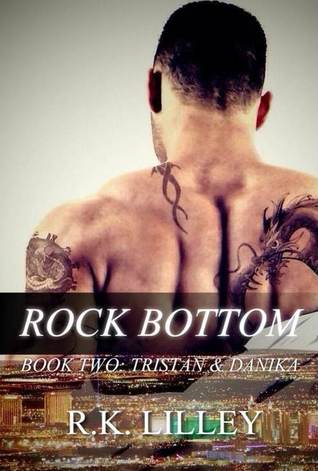 By R. K. Lilley
Synopsis:
Their love had the power of a runaway freight train, and the potential to be just as destructive.
The tempestuous sequel to Bad Things picks up where the first book left off. Reeling from a profound loss, Tristan and Danika struggle to pick up the pieces and build a life together, but the hard habits of a lifetime are not so easy to escape.
Rock Bottom takes us on a dual point of view journey through addiction and desire, through love and agony, and answers the question we've been asking since these characters were introduced in Grounded: "What happened between Tristan and Danika?"
DANIKA
Even love couldn't cushion a fall like ours. My love for Tristan was so big that I felt consumed by it, and even so, it was not enough to overpower our combined demons.
I struggled. I yelled and screamed. I scratched and kicked.
I fought like hell, but even the most determined fighters have to stop before they break.
No one could say I didn't fight for him.
"I love you," I spoke softly into his ear.
He gripped me harder. "I can't ever lose you, Danika. I'm not sure I'd survive it."
"You've got me. And I'm not going anywhere. Not ever."
I meant the words when I said them, but life had other plans for us.
I'd have given my life for that fight. In fact, I very nearly did.
TRISTAN
She was the one.
If I'd ever had a doubt, I didn't now. She was the one I'd be thinking about, longing for, until I took my last breath. If I lost her tomorrow, I'd pine for her like a lovesick fool.
This was the kind of love that only hit you once in your life.
This book is intended for readers 18 and up.
Review:
Rock Bottom is the second book in the Tristan and Danika series. I've always like Tristan and Danika. I was thrilled when I heard they were getting their own series. I had no idea where this series was going to take us. I knew they had a past, but I had no idea R. K. was going to make us live through it.
Reading Bad Things was hard. Not because it wasn't well written, but because it was hard to go back and read about how Tristan and Danika fell in love when we know it doesn't last. The entire time I was reading it I kept asking how things went wrong. I wanted to cheer for them, but I was reluctant because I knew what was coming.
I recently swore off reading any series until it was complete. I was already into Tristan and Danika's story and wanted to know what happens, so I read it. I'm so glad I didn't wait on one hand, and I so wish I had waited on the other. Rock Bottom was a fabulous read. R. K. takes the reader on such an emotional journey. It was gut wrenching. I don't want to give away the book, but we witness the demise of such a promising relationship.
It's so hard to understand how two people who love each other so much can't make it through. There comes a point when someone loathes their self so much no one can love them enough. Such is the case with Tristan and Danika. He loves Danika, but he hates himself even more. He hates himself to the point he can't see anything redeemable in his life, not even Danika. Tristan was always dark but to watch him go through this downward spiral was almost too much. Only the knowledge that he does come out made it bearable.
The things that happen to Danika in this book made my heart ache for her and her suffering. It seemed more than one person should have to deal with because of who she loves. She's never had an easy life and I kept wondering when she was going to catch a break. When she breaks it takes everything she has to patch herself back together. She knows she isn't the whole person she once was, but she's determined to make something of her life. In order to reach her goal she has to let her anchor go. In the end will she really be able to say goodbye. I hope not, but we won't know until the third installment in 2014.
I'm anxiously awaiting the third book and the redemption of Tristan and Danika's story.
Reviewed by Liz
P.S. R. K. Lilley, if you read this Frankie came off as a sanctimonious bitch in the sneak peak of book three. Who is she to tell Danika not to torture Tristan? I can understand as his friend she hates to see him hurting, but there's no doubt Danika suffers just as much and we don't see anybody telling Tristan to leave her alone and let her have her peace, do we? Some people need to step back, in my opinion.