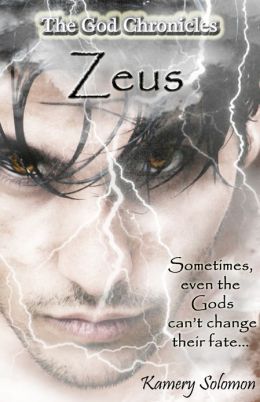 Zeus
The God Chronicles Book One
Synopsis:
Vegas is not where Karly had imagined herself to be at this point in her life. She was supposed to be living in California, soaking up the sun and enjoying the life of an artist. Instead, she's just moving out of her parent's house and going to a school that could loosely be called her second choice. When she meets Zeus Drakos, owner of the new hit casino and resort in town, he seems just like every other jerk guy out there. How was she supposed to know who he really was?
Review:
Zeus has been exiled from Mount Olympus, because he has broken a vow and divorced Hera. He cannot return or get his powers back until he falls completely in love and he must be loved in return.
Karly, a 21 year old college student, moves to Las Vegas to finish college. She is greeted by her three roommates (triplets) who take her to a popular night club to celebrate the end of summer. There, Karly meets the dark and mysterious casino owner, Zeus. His behavior is rude and obnoxious. Karly wants nothing to do with him. Zeus attempts to apologize to her and she finally agrees to dinner.
When Karly begins to develop feelings for Zeus, Hera steps in to cause trouble between them, so Zeus won't be able to regain his powers. In the meantime, Kronos has taken over Mt. Olympus. All the while, Karly has no idea that Zeus is a god.
Will Karly and Zeus fall in love? Will Hera get in the way of their romance? Will Zeus loose his kingdom to Kronos? Only the Fates know!
Zeus has just the right amount of mythology and modern romance to make this book interesting. Even though this isn't the genre I normally read, I enjoyed it very much. There is a complete lack of sex in this book, however, the conflict between the gods and how they play a role in the lives of mortals gives the story enough excitement to keep you engaged in the story. I couldn't stop reading and at the end I found myself wanting more!

Poseidon
The God Chronicles Book Two



Synopsis:
Audrey has everything she's ever wanted. When it all gets torn away in a tragic accident, she begins to spiral out of control. How can she get back to where
she was after everything that happened? Thankfully, Sy steps in to save her-literally. Over time, strong feelings begin to battle within her, feelings she does not want to have. Will she be able to let go of her past in order to secure her future?
Review:
When Audrey loses her husband to a tragic accident at sea, and soon after miscarries their baby, she feels everything has been taken from her. In a fit of anger she goes to the ocean to yell at her dead husband for leaving her and accidentally slips into the ocean. Luckily, she was rescued by a handsome swimmer.
After a period of mourning, Audrey slowly begins putting her life back together. One morning while walking her dog, she notices her new neighbor, Sy. There is something very familiar about him. Sy develops feeling for Audrey but she isn't ready to give her heart away.
Audrey finds out that Sy is the god Poseidon and he was the one who rescued her. He knows he is responsible for her husband's death. She is conflicted with feelings for Sy and the love she still carries for her husband. When Sy's life is threatened, Audrey must choose between saving him or letting him go forever.
Will love lost and secrets held keep Aubrey and Sy a part? Only the Fates know!
Poseidon is the second installment in The God Chronicles. There isn't as much mythology as in Zeus, however, there is enough to keep it exciting. There is also no sex in this book, but I really enjoyed how the romance developed between Audrey and Sy. I'm not usually a fan of young adult romance. Once again, I couldn't put it down.
I was provided an ARC in exchange for an honest review.
Reviewed by: Stephanie, NNBB Guest Reviewer